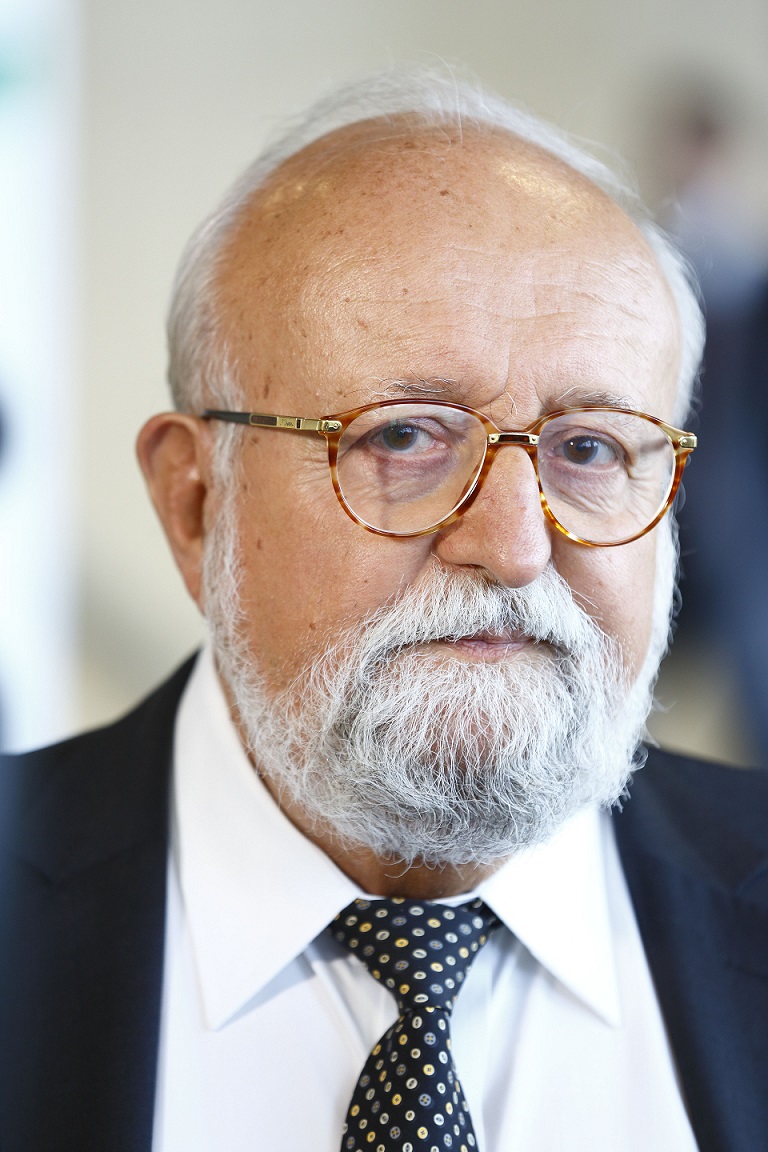 Krzysztof Penderecki – Honorary Chairman of the Jury / 2016
---
Born in Dębica on 23 November 1933. His father, a lawyer and an enthusiastic violin player, brought his son into contact with music very early on. Penderecki was admitted to the Krakow Conservatory at the age of 18, studying at the same time philosophy, art history and literary history at the local university and from 1954 composition at the Krakow State Academy of Music. In 1958 he finished his studies and was appointed professor at the Musikhochschule.
In 1959 Penderecki won first prize in the 2nd Warsaw Competition of Young Polish Composers of the Composers' Union and one year later his piece ANAKLASIS, was celebrated by the press. Other compositions followed in rapid succession, winning major awards such as the UNESCO Award, the Great Arts Award of the Land of North Rhine-Westphalia and the Prix Italia for the ST. LUKE PASSION.

From 1966 to 1968 Penderecki taught at the Essen Folkwang Hochschule where he began work on his first opera THE DEVILS OF LOUDON (based on a book by Aldous Huxley). After its première at the Hamburg Staatsoper in 1969, the work was successfully performed at theatres throughout the world. Three more operas followed, PARADISE LOST (in 1978), DIE SCHWARZE MASKE (in1986) and UBU REX (in 1991).
In 1968 he received a scholarship of the DAAD (German Academic Exchange Service) in Berlin and in 1970 he was awarded the Prize of the Union of Polish Composers. Since 1972 he was rector of the Krakow Musikhochschule and from 1973 to 1978, professor at the Yale University, New Haven. In these years, Penderecki toured worldwide and acquired an international reputation as a conductor of his own and others' compositions.
Other prizes awarded to Penderecki for his many other works include the Prix Arthur Honegger, the Sibelius Prize of the Wihouri Foundation, the National Prize of Poland, and the University of Louisville Grawemeyer Award for Music Composition, among others.
Many awards followed: the Composition Award of the Promotion Association of the European Industry and Trade in 1988, the Music Award of the City of Duisburg in 1999, the Cannes Classical Award as "Living Composer of the Year" in 2000, the Prince of Asturias Award for the Arts in 2001 and the Romano Guardini Prize of the Catholic Academy in Bavaria in 2002.
Amongst his many other awards and acknowledgements, he is holder of the Grand Cross for Distinguished Services of the Order of Merit of the Federal Republic of Germany and Chevalier de Saint Georges, Austrian Medal for Science and Art, the Distinguished Citizen Fellowship at the Institute for Advanced Study at the Indiana University Bloomington and the Prize of the International Music Council UNESCO for Music and the Order of Cultural Merit of the Principality of Monaco. In 1995 and 1996 he was awarded the Primetime Emmy Award of the Academy of Television Arts & Sciences. His other prestigious prizes include the Japanese Praemium Imperiale (2004) and the Grand-Croix de l'Ordre "Pro Merito Melitensi" (2011).
He also holds a number of academic and other institution based positions in Germany, Lithuania Austria, Hong Kong, Spain and Latvia to mention a few as well as honorary memberships, doctorates and professorships at numerous major academies in London (the Royal Academy of Music), Rome, Stockholm, Berlin, Buenos Aires, Beijing, Washington and many more.
Krzysztof Penderecki continues to compose and recent works include among others: CONCERTO GROSSO (2001), PIANO CONCERTO (2002), SYMPHONY NO. 8 (2007), CONCERTO FOR HORN AND ORCHESTRA (2008), STRING QUARTET NO. 3, THREE CHINESE SONGS (2008), A SEA OF DREAMS DID BREATHE ON ME FOR SOPRANO, MEZZO- SOPRANO, BARITONE, CHOIR AND ORCHESTRA (2010).
Krzysztof Penderecki's recent works include the DOUBLE CONCERTO FOR VIOLIN AND VIOLA (premiered on 22 October 2012 at the Musikverein in Vienna with Janine Jansen and Julian Rachlin as soloists), MISSA BREVIS (commissioned by the Bach Archive Leipzig and premiered on 6 January 2013 by St.Thomas Choir in Leipzig), a new version of THE DEVILS OF LOUDUN opera, premiered in Copenhagen on 12 February 2013 and LA FOLLIA- a piece for violin solo, commissioned and written for Anne- Sophie Mutter and premiered in Carnegie Hall in New York on 13 of December 2013.
The year 2013 marked Krzysztof Penderecki's jubilee. On the occasion of his 80th birthday, many concerts and festivals featuring the composer's works took place: St Petersburg, Wrocław, Vilnius, Lvov, Kraków, Kuhmo Chamber Music Festival, Festival Pablo Casals in Prades, Schleswig-Holstein Festival, Ohrid Festival, Marlboro Music Festival. The concerts will also be held in Košice, Berlin, Bonn, Hanover, Ravello and Assisi (Emilia Romagna Festival), Budapest, Minsk, Prague, Beijing (Beijing Music Festival), New York, Boston, Yale University School of Music, Seoul, Caracas, and Yerevan.
A festival dedicated to Krzysztof Penderecki's music was held between 17 and 23 November in Warsaw, with such great artists as Lorin Maazel, Charles Dutoit, Valery Gergiev, Marek Janowski, Lawrence Foster, Long Yu, Leonard Slatkin, Alexander Liebreich, Rafael Payare, and leading Polish conductors: Jacek Kaspszyk, Krzysztof Urbański and Gabriel Chmura. Among the greatest soloists and ensembles performing Krzysztof Penderecki's music were Anne-Sophie Mutter, Yuri Bashmet, Daniel Müller-Schott, Shanghai Quartet, and many others.
In February 2014, the composer conducted his Polish Requiem in a series of concerts with the Israel Philharmonic Orchestra, and in March 2014 Krzysztof Penderecki was a composer-in-residence at the Curtis Institute in Philadelphia.
The premiere of Krzysztof Penderecki's composition Dies Illa for soprano, mezzo-soprano, bass, mixed choirs and orchestra, written to commemorate the centenary of the outbreak of World War I, took place on 9 November 2014 in Brussels, as part of a special concert entitled "Thousand Voices for Peace". A new Trumpet Concerto written for Gábor Boldoczki was premiered in Saarbrücken on 3 and 4 of May 2015.
On October 1st 2015 Polonez for the Orchestra, commissioned by the Fryderyk Chopin Institute for the inauguration of the XVII International Chopin Piano Competition, was premiered in Warsaw Philharmonic Concert Hall.
---