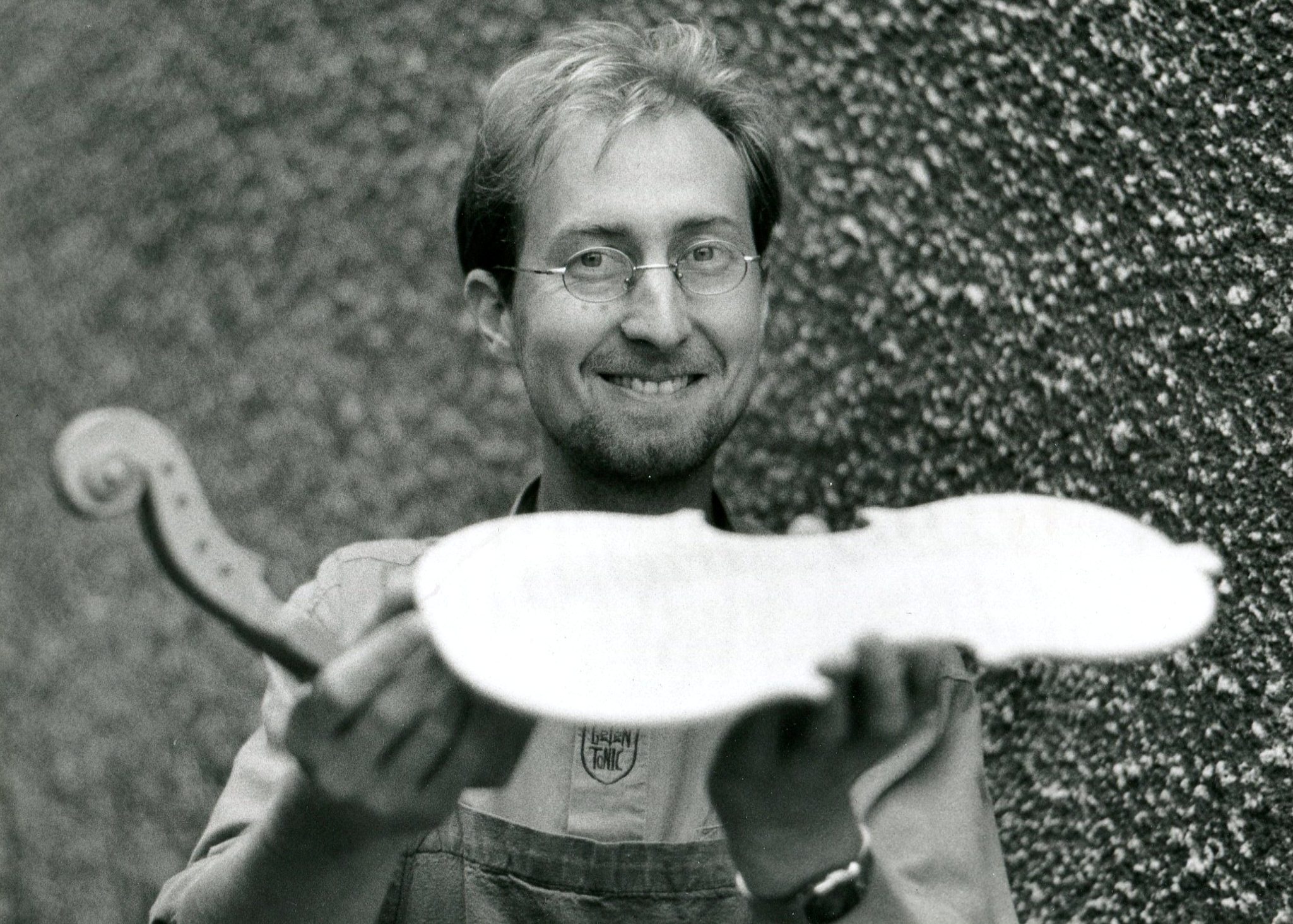 Marcus Klimke – Second Prize Winner of 12th International Henryk Wieniawski Violin Making Competition (2011)
Born in 1968 in Weimar, East Germany, Marcus Klimke left with his family in 1984 for West-Germany, Crailsheim. He did an apprenticeship as a cabinet maker before he entered the violin making school in Mittenwald, where he received his diploma in 1992. After his civilian service in Munich he moved to Chicago, where he was mostly doing repairs and restorations in the workshop of Michael Becker for 18 months.
Between 1995 and 2001 he was assistant in the workshop of Andrea Frandsen and Patrick Robin near Angers, France, construction of string instruments.In 1994 he received a "Certificate of merit for sound" for a violin, presented in the international violin making competition from the Violin Society of America. During this time he started to make instruments by himself and since October 2002 he has been working in his own workshop in Angers.
He makes violins, violas and cellos inspired by Italian instruments from the great "classical" period, especially by Amati and Stradivari instruments.
Klimke regularly participates at workshops in France and Germany, where some of the best violin makers from around the world meet and exchange their knowledge to improven their work. His instruments are played by professional musicians and soloists in USA, Denmark, Sweden, Great Britain, Germany, Switzerland, Italy, Spain and France.
Prize-winner at numerous competitions:
2000 – he won gold medal and special prize for the best scroll of his viola in Triennale in Cremona.
2000 – he won gold medal for another viola in VSA International  Violin Making Competition (Cincinnati, USA).
2001 – he won a bronze medal for a viola in the international violin making competition in Mittenwald.
2004 – he won a gold medal for a viola in "Councours Etienne Vatelot".
2005 – he received silver medal for a cello in the International Violin Making Competition in Mittenwald.
2006 – he participated for the second time in Triennale in Cremona and received silver medal for the violin.
2008 – he won two silver medals for a violina and a viola (workmanship and sound) in the VSA International Violin Making Competition  (Portland, USA),
2009 – he received two prizes "coup de coeur" for a viola in the First Competition for Violas organised by the "Association Franco-Europeenne de l'alto" in Paris.
2010 – he received a bronze medal for a violin and a silver medal for a viola in the International Violin Making Competition in Mittenwald.
2011 – he was awarded 2nd Prize at 12th International Henryk Wieniawski Violin Making Competition in Poznań, Poland
[2011]